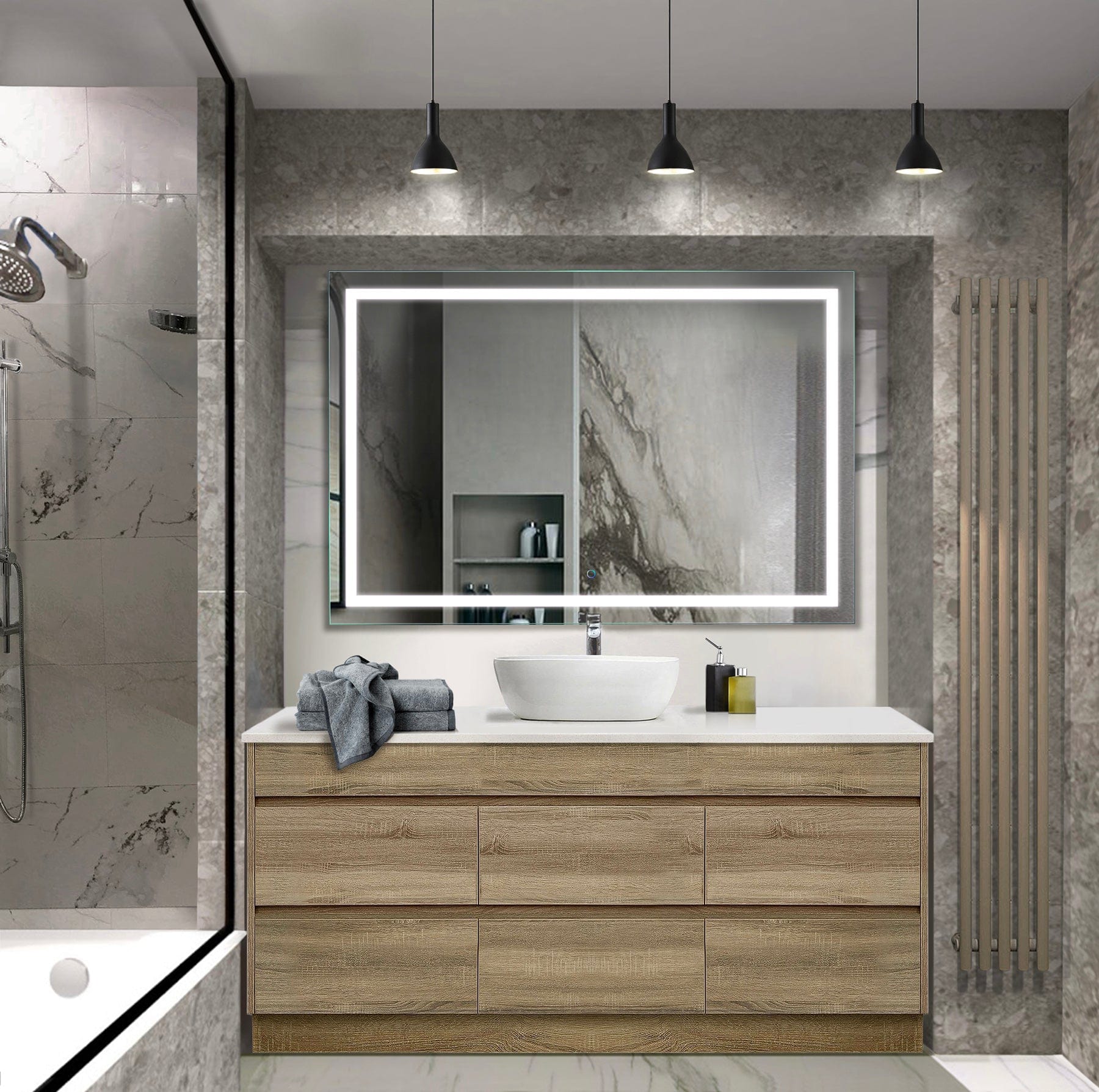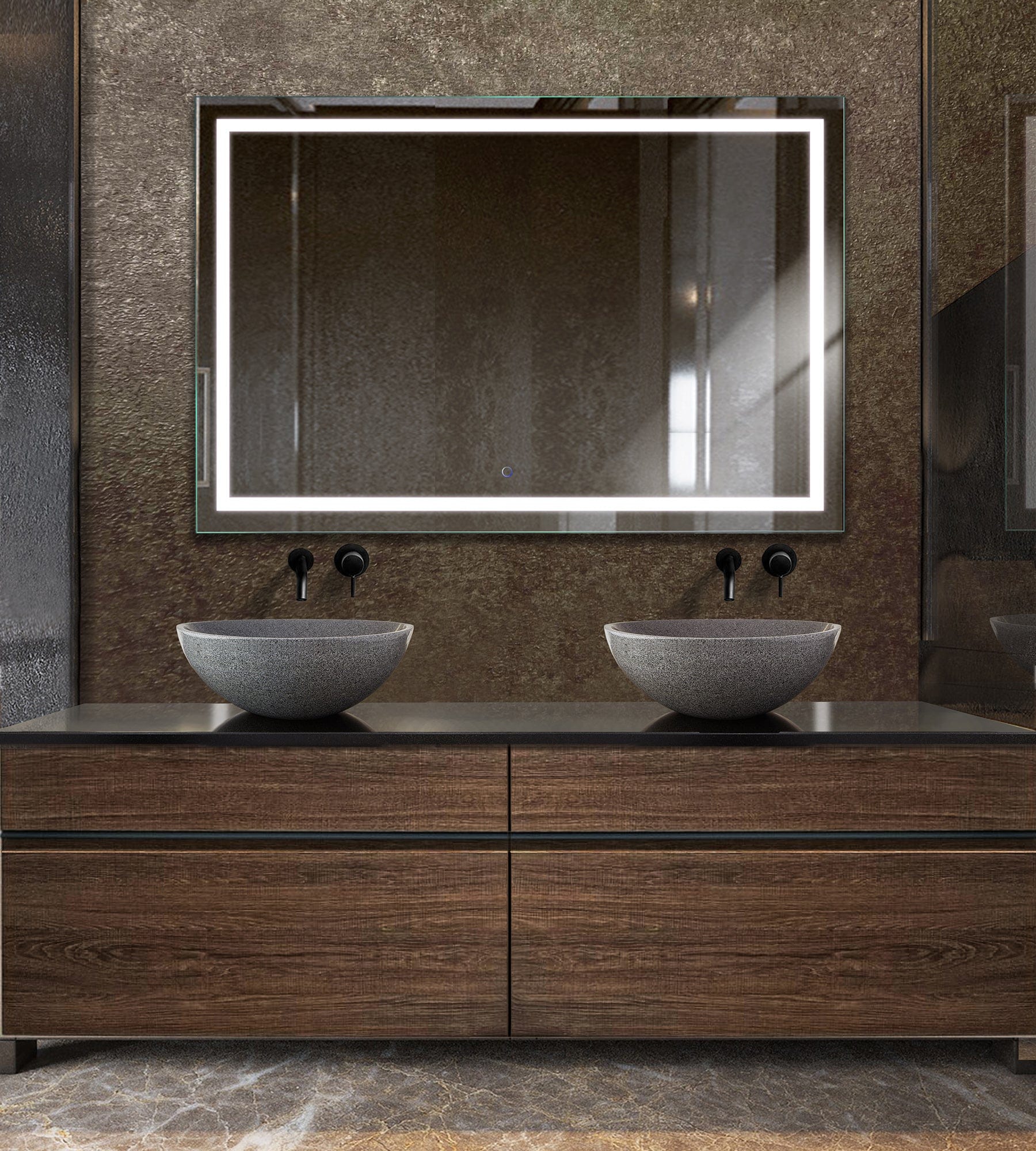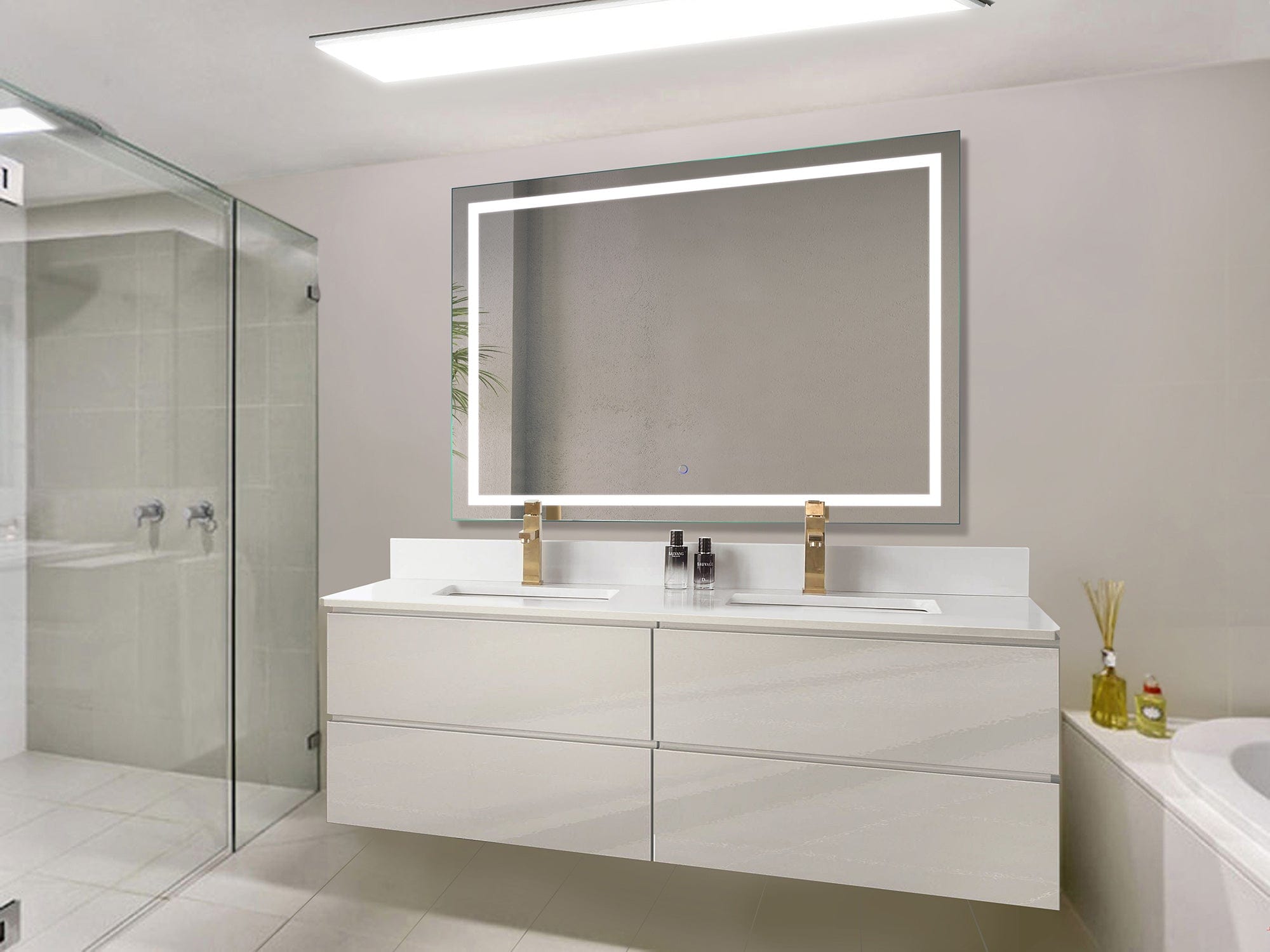 Icon 54" X 36" LED Wall Mirror - Molaix
This lighted bathroom mirror is a true Icon of sleek, aesthetic style and sophistication. The highest quality silver-backed glass provides you with a clear, crisp and flawless reflection. Truly functional art, this LED Frontlit Mirror provides task-specific dimmable daylight illumination for your cosmetic, hygiene and dressing needs. Experience true luxury with our unique built-in defogger mechanism that maintains a fog free mirror every time.
This Icon's 54 x 36 dimensions make it an ideal focal point. Whether it hangs over a double vanity or dressing table, graces a large single vanity in your master bath, or provides a stunning wall to wall application in your powder room, you can rest assured that this mirror will be the highlight of your design.
Environmentally Responsible
LED light source creates bright, energy-efficient illumination
Our long-lasting LED provides a lifetime of use (50,000 Hours)
Convenient features like the defogger and dimmer save time and energy
The Defogger: What Every Mirror Should Do
A safe, innovative heating-coil pad behind the Icon bathroom mirror keeps it free of condensation
The Icon bathroom mirror doesn't have to be wiped off, so you don't leave behind any streaks or swirls
The glass remains effortlessly clear and flawless
E-Z ON/OFF Sensor Dimmer & Cool Natural Day Light
Conveniently placed On/Off touch dimmer allows easy control of light levels to get that "just right" ambiance, mood and function
When you dim a light, you save up to 98% of energy
The LED light temperature is 6000 Kelvins, as bright as daylight—considered best for bathroom use
Provides an impressive 7525 Lumens
The Defogger -- What Every Mirror Should Do
With its Defogging Feature, The Icon LED Mirror Gives You The Luxury And Functionality Your Bathroom Deserves.
A Safe, Innovative Defogger Pad Behind The Mirror Keeps It free From Condensation.
The Mirror Does Not Have To Be Wiped Off, You Won't Leave Behind Any Streaks Or Swirls.
A Mirror That Is Always Clear Even After a Steamy Shower , Wont Waste Your Time
The Frontlit Vanity Mirror With Defogger, Means Your Hygiene And Dress Will Be Impeccable.
E-Z ON/OFF SENSOR DIMMER & LIGHT INFORMATION Conveniently Placed On/Off Touch Dimmer
Allows Easy Control Of Light Levels To Get That Just Right Ambiance, Mood And Function.
When you dim a light, you save up to 98 percent in energy
LED Light Color is 6000 Kelvins or Daylight
Considered Best For Bathroom Use
Excellent For Shaving & Makeup Application - As It Provides Great Contrast Between Colors. Consider that make-up artists use cool light temperatures to ensure they are not creating an unnatural look for their clients. This, too, should be your aim.
Additional Features
Perfect Light
Quite simply, the ultimate in task lighting, Eliminating the corner dark spots found in the many cheaper LED mirrors.
CRI
Color Rendering describes how a light source makes the color of an object appear to the human eye, and how well the subtle variations in color shades are revealed.
Krugg Mirrors only use lights with a CRI of 90 or higher. Which is near pefect at color rendering and should be used for tasks requiring the most accurate color discrimination.
LED Foremost
Our 2835 LED strips, with an outstanding 36 chips per linear foot, are BRIGHT!
The waterproof drivers offer built-in overload protection, powering LEDs 4.6 times brighter than standard mirror lights!
E-Z ON/OFF SENSOR DIMMER For Perfect Light
ENERGY SAVING LED LIGHTING | Provides 50,000 Hours of Functional Inviting Ambiance |
PERFECT LIGHTING for Make Up and Hair - Shows Your True Colors
We Use Only Top Grade SILVER BACKED GLASS
DEFOGGER Keeps Mirror Clear And Free From Condensation |Now You Can See Your Reflection Clearly | FOG FREE!
Flex installation can hang vertically or horizontally
---