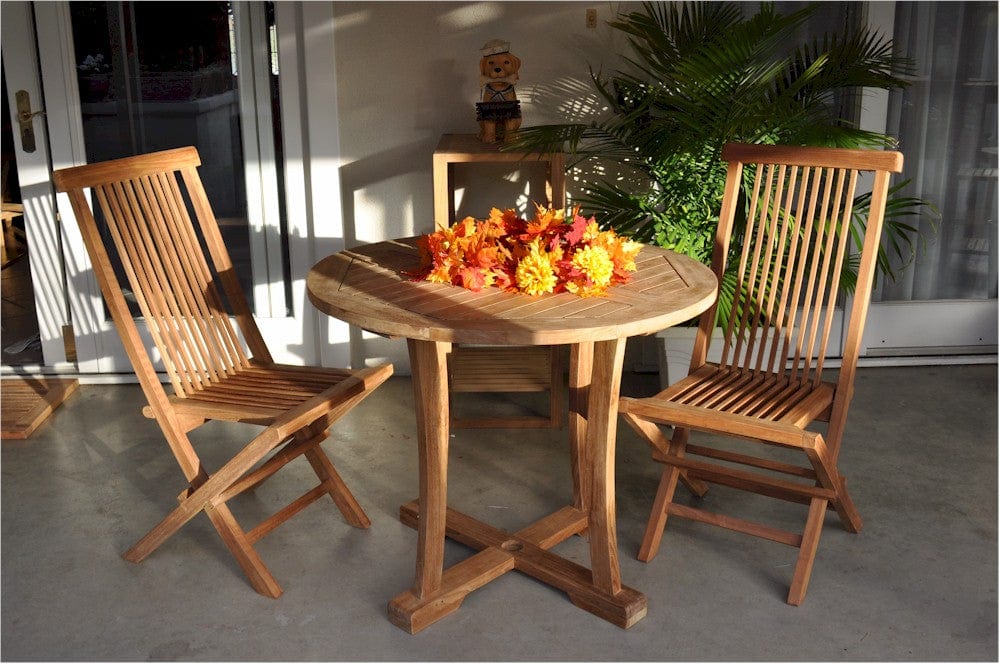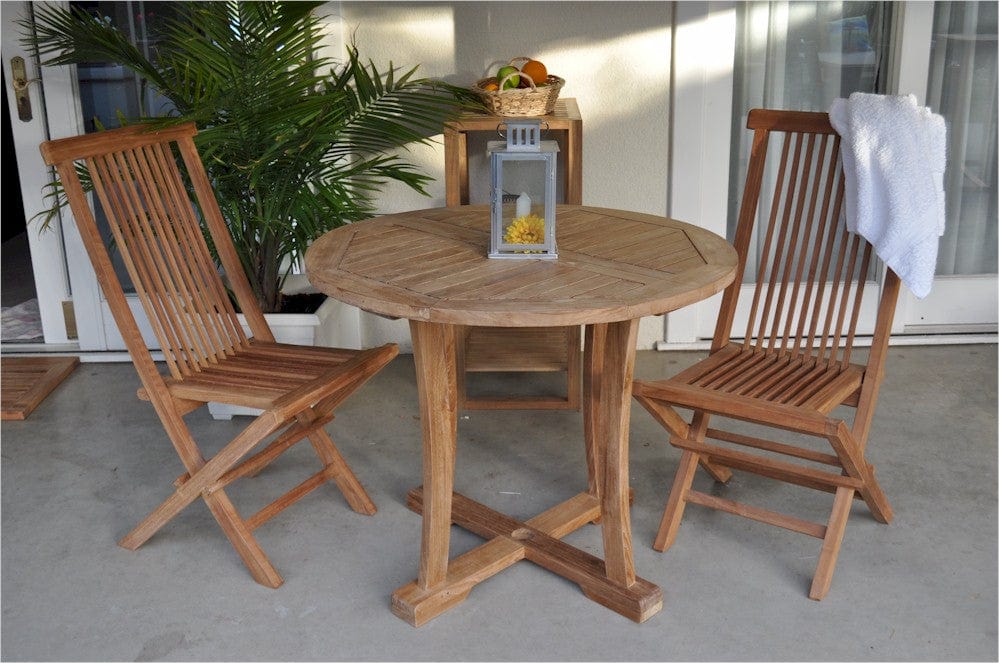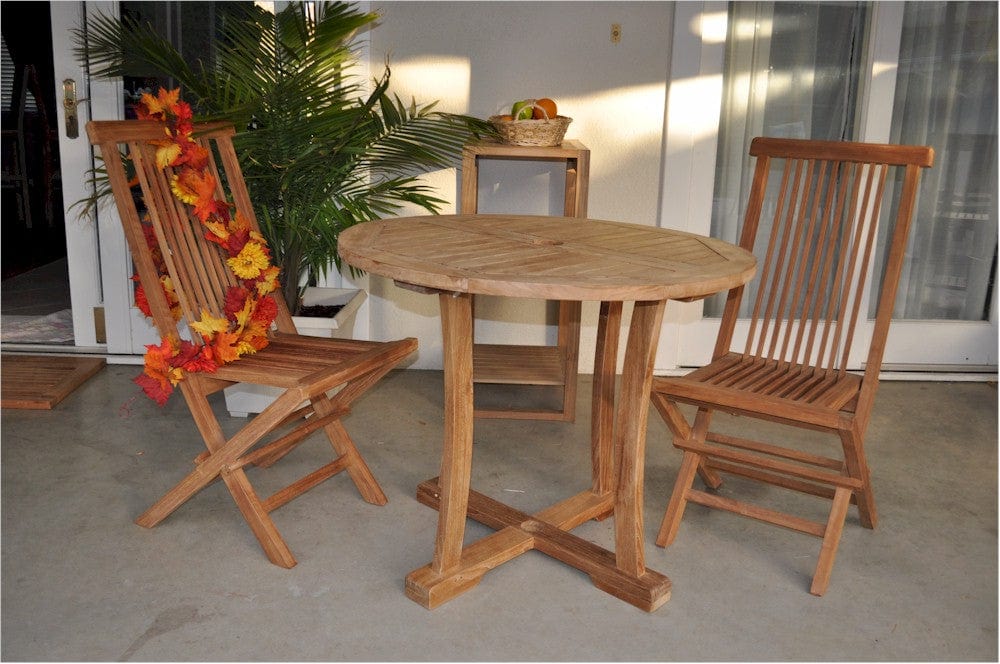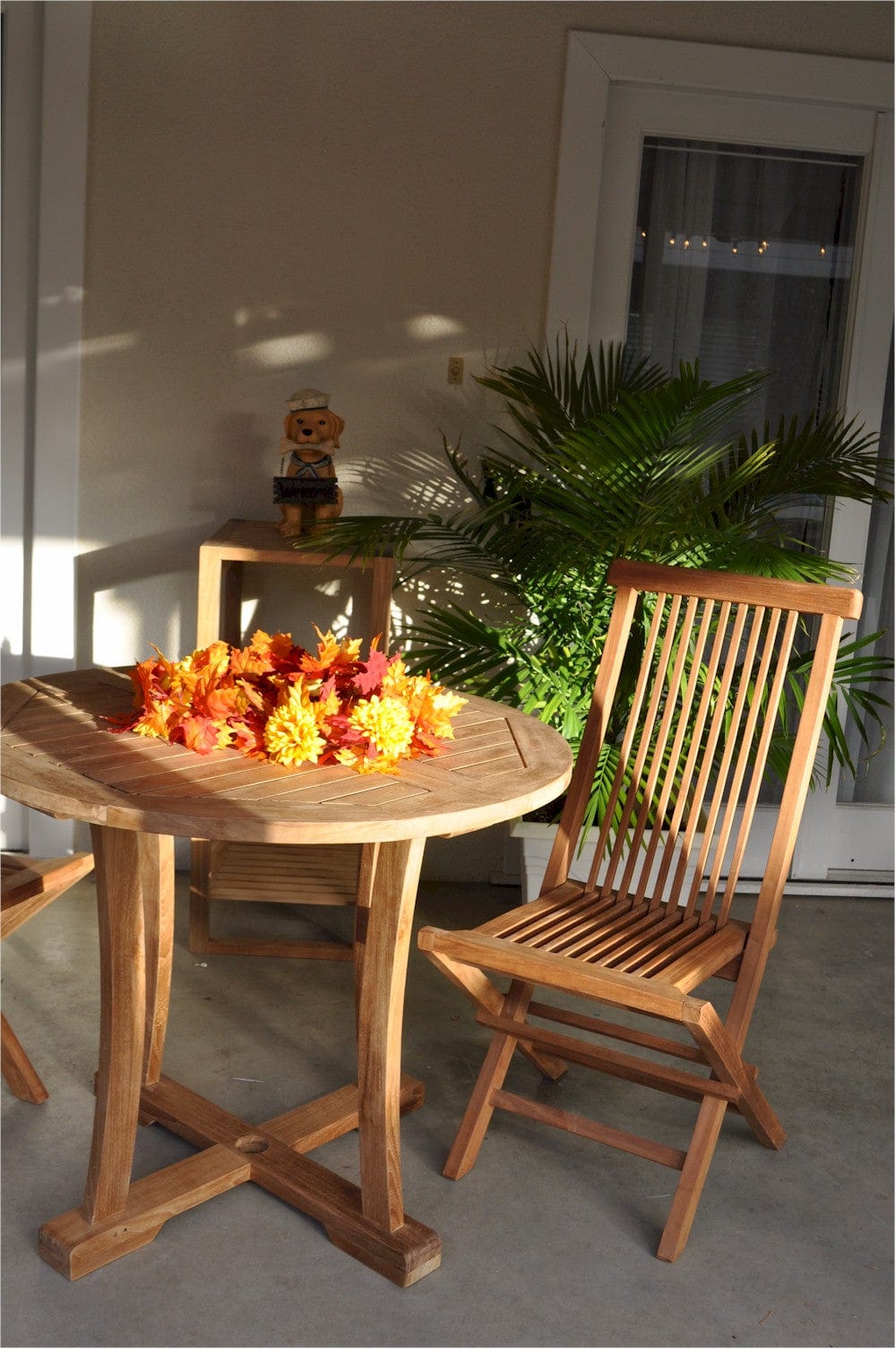 Descanso Bristol 3-Pieces Dining Set
A very gorgeous dining set that will shine under any décor perfect for outdoor living
It comes with 1 round table and 2 folding chairs
Shelves rack and accessories are not included
There is no umbrella hole on the tabletop
Made of solid teak wood coated in a waterbased seal for added weather protection
Features:
1 TB-8890 Descanso 35" Round Dining Table
2 CHF-2010 Bristol Folding Chair
Teak Wood
Cushion is not included
Left over premium teak wood treated with water-base sealer
Teak Wood
Kiln-dry process
Cushions (optional) are made of Sunbrella fabric, a water repellent material, preventing mildew and fading
Inner cushion is made of foam with a Dacron wrap. Total thickness is 2"
Chapman Collection: Another Teak collection by Anderson.   We use our left over premium teak wood from Anderson and redesign the furniture for less expensive piece.  Treated with water based seal.  
Specifications:
29 H x 35 W x 35 L
CHF-2010: 38 H x 18 W x 22 D
Warranty Term:
Anderson honors the Limited Warranty to the original retail purchaser, to be free from the manufacturing defects and workmanship, but does not include any small crack in the end grain of wooden furniture.  Anderson will be responsible, within one year from the date of purchase, reasonable and customary labor rates to repair or replace the defective parts excluding shipping cost from the retailer to and from Anderson or a repair center appointed by the Customer Service Department of Anderson to the original purchaser.  After one year from the date of purchaser, the customer will be responsible to packing, and all the shipping and transportation costs.  A 1-Year Limited Warranty is given to all frames used in upholstered chairs, love seats, sofas, ottomans, loungers, benches and tables for commercial use.  However, a 2-Year Limited Warranty is given for residential use for the same products mentioned above.
Additional Warning or Disclaimers:
Warranty Length:
2 Years
---