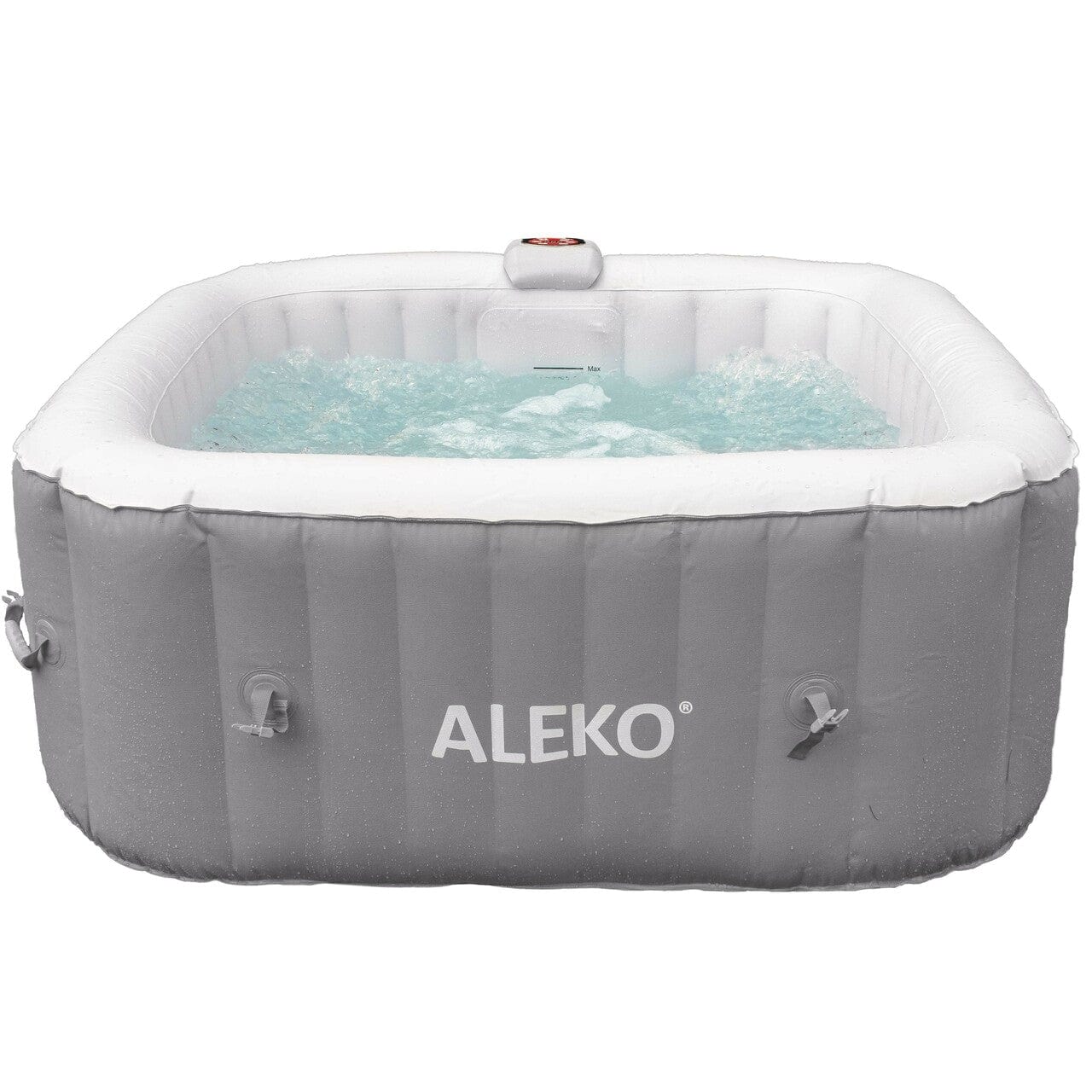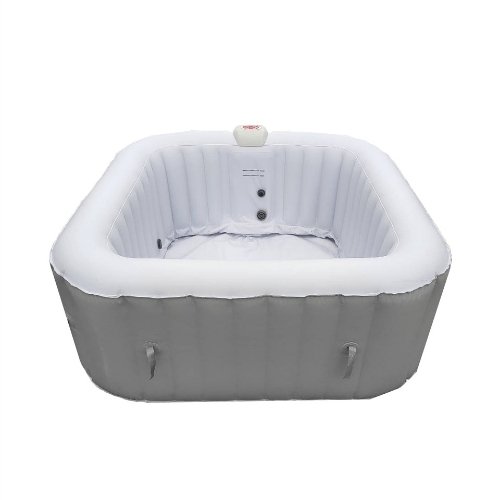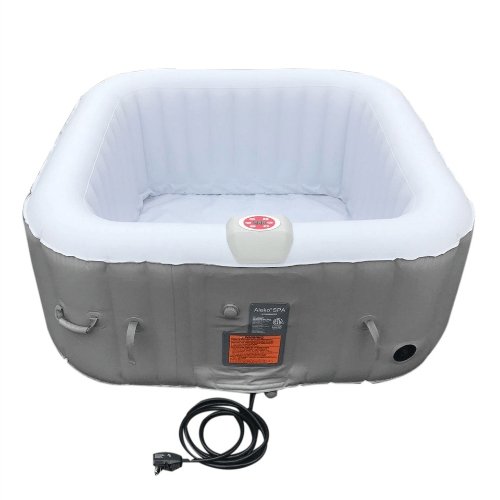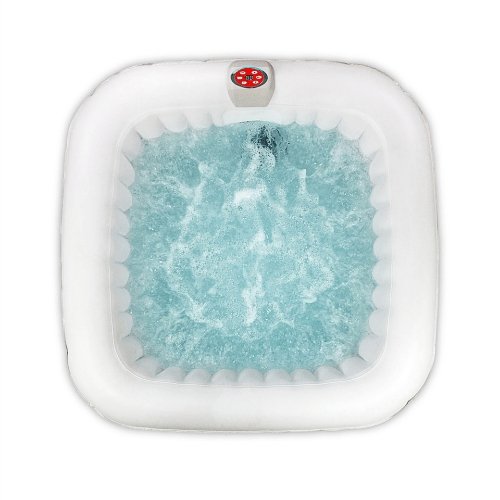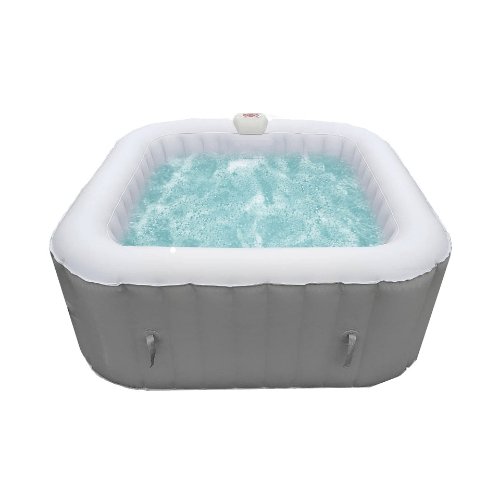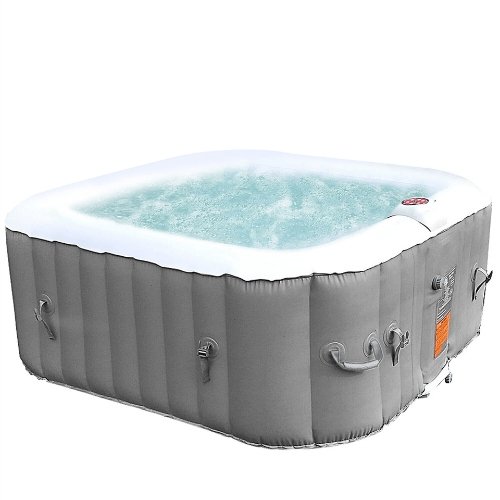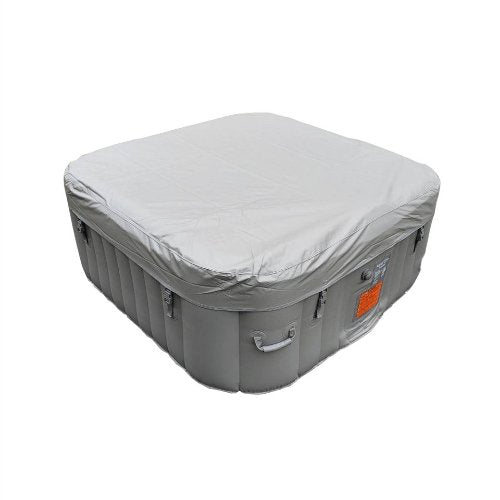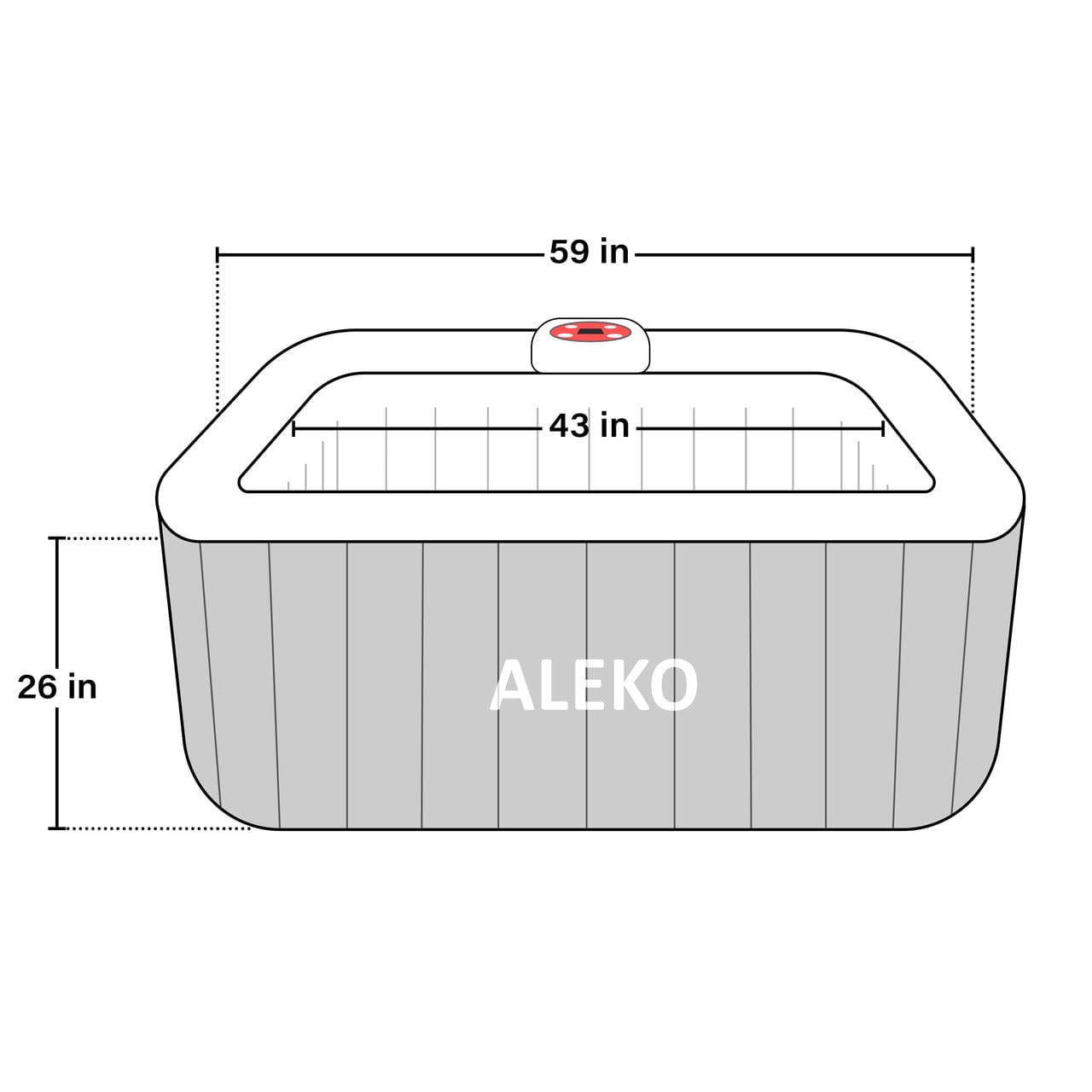 4 Person 160 Gallon Gray Square Inflatable Jetted Hot Tub with Cover by Aleko
4 Person 160 Gallon Gray Square Inflatable Jetted Hot Tub with Cover
---
With ALEKO's Square Inflatable Jetted Hot Tub, you may find complete relaxation in your own private hideaway. This 4-person spa offers all the advantages to physical and mental health of a conventional hot tub but with an easier installation. The personal spa is a great choice for people from all walks of life because it is also more affordable.

Place this hot tub on your patio, in your garden, or wherever you prefer to unwind. It makes a great addition to most outdoor living spaces. Personal spas are fantastic self-care tools that can be used whenever you want in the comfort of your own home. You can unwind while receiving a massage from the 130 high-powered bubble jets on its cushioned floor.

Regular hot tub use has a host of health advantages, such as improved sleep, lessened pain in the muscles and joints, and many more. Families, athletes, persons with chronic pain, people who struggle with insomnia, and many more groups of people find personal hot tubs to be excellent.

A convenient, fitting cover that matches each hot tub is included. To keep your spa clean and controlled, simply slide the cover over the top of the tub and click it in place. In order to keep water extra warm and to retain heat, the underside of the cover is coated with aluminum foil.

The dimensions of this 4-person spa are 59 x 59 x 26 inches on the outside and 43 x 43 x 26 inches on the inside. It contains 160 gallons of water. Just add water to the hot tub kit, which already has a built-in 1500-watt (110–120 volt) power pack, a 900-watt heater, a 600-watt bubble feature, and an AC filtration pump.

To ensure optimal cleanliness and enjoyment of your spa, some chemicals are necessary to treat the water. Learn more about what you need to maintain your hot tub here.


FEATURES:
Find deep relaxation in your own backyard oasis with ALEKO's Square Inflatable Jetted Hot Tub


Square hot tub with 160 gallon water capacity; holds up to 4 people


Ideal for joint/muscular pain, improved sleep, stress and anxiety relief; also great for parties or personal relaxation


Inflates in minutes and deflates for easy storage; no tools required


Heats up to a maximum temperature of 108 degrees


Heating time varies depending on the temperature of the water used to fill the tub; heats 1-3 degrees F/h


For optimal performance, it is recommended that the control box be switched off every 48 hours to allow temperatures to cool and reset


100-130 high powered bubble jets provide a soothing massage


Easy to operate digital panel with bubble jet function, temperature/heat controls and filtering


Fitted cover features foil underside that keeps water warm and locks in heat; snaps in place with buckles


Built in features: 1500 watt (110-120 volt) power pack, 1200 watt heater, 600 watt bubbler, 12 Volt AC filter pump (420 gallon capacity)


Includes: (1) Inflatable Hot Tub, (1) Fitted Cover, (1) Inflation Hose, (3) Filter Cartridges, (2) Filter Cartridge Covers, (1) Ground Cloth, (1) Rubber Plug, (2) Instruction Manuals, and (1) Repair kit


Materials: PVC Hot Tub and Polyurethane Cover


Outer PVC thickness: 0.66mm/264 gauge


Interior PVC thickness: 0.60mm/240 gauge


Outer dimensions: 59 x 59 x 26 inches


Inner dimensions: 43 x 43 x 26 inches


Color: Gray
Set up Guide
---